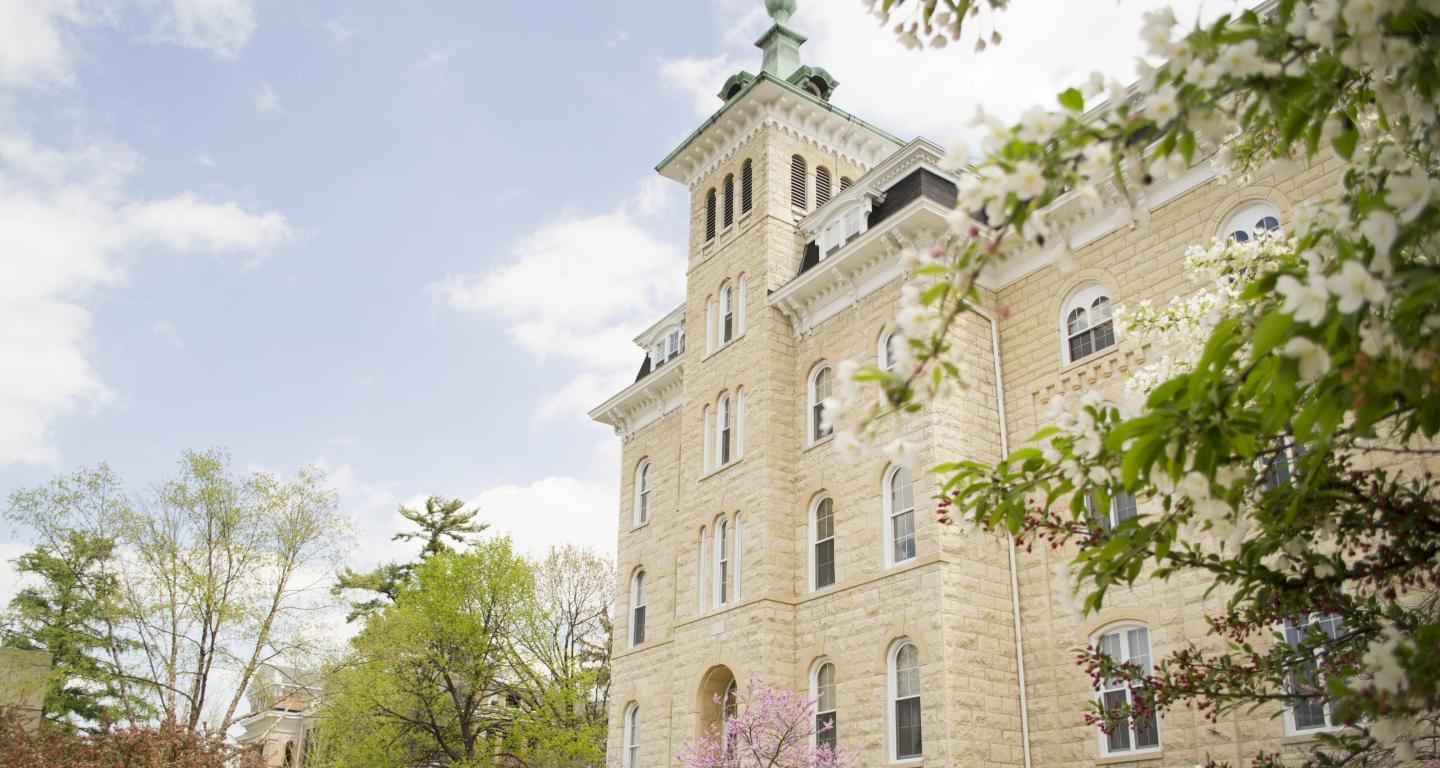 College of Arts & Sciences
English
Why pursue a degree in English at North Central College?
The English Department cultivates a culture and practice of intentional writing and inclusive reading. We offer three majors: English Education; English, Literature; and English, Writing. Students also often seek one of our five minors: literature, writing, professional & technical writing, language arts & linguistics, and film & screen studies. We also offer an M.A. in professional and creative writing. Students in our programs gain expertise in the role language plays in creating and defining meaning from one's life and world. Through close faculty mentorship, students will develop skills in creative writing and rhetoric, hone their ability to read broadly and closely, gain methods to enter the classroom, and/or pursue undergraduate research.
The study of writing and literature develops students' academic, professional, and creative skills. Our graduates find success in law, creative writing, education, business, medicine, corporate communications, grant writing, arts administration, and publishing. In all of these fields, the ability to communicate effectively, problem solve, and work in a team mean English majors advance faster and earn more. Think about it: in a culture beset by distraction, the ability to read—and write—literature makes one extraordinary.
IF YOU ARE INTERESTED IN
The role of language and storytelling in reflecting the human experience and encouraging new thought

The artistic, historical and cultural contexts of literature

The development of craft and writerly practice for creative, academic, and professional settings
then a degree in ENGLISH might be for you.
Why study English at North Central College?
In the Classroom
Coursework topics:
Advanced Fiction

Black Narrative

Creative Writing for Self-Discovery

Foundations of Language Study

Gender and Literary Feminisms

Global Shakespeare

Graphic Narratives

Introduction to Film & Screen Studies

Latina/o/x Literature

The Novel Across Time

Writing, Rhetoric and Digital Studies
Beyond the Classroom
As an English major, you can:
Apply for internships and jobs through robust faculty and alumni networks or the Center for Career and Professional Development.
Join Sigma Tau Delta, a national English honor society.
Join the staff of The Kindling and 30 N to learn about publishing, marketing and editing.
Meet and learn from established writers through the Visiting Writers Series.
Visit or join the staff of the Writing Center.
Visit the English Department on social media on Instagram and Facebook.
English Studies Internships and Jobs
A North Central education integrates career preparation with rich academic study. Our faculty encourages you to refine and apply your knowledge in an interconnected world. Here you'll learn to think independently and work globally to solve problems and lead.
Internships
Current students and recent graduates in English have secured internships in:
Journalism

Technology

Podcasting

Social Media

Non-profits

Literary magazines

Digital Media

Television Production

Media Relations

Marketing

Grant Writing

Graduate Schools
Recent graduates in English have been accepted at:
Northwestern University
McGill University
Loyola University
University of Texas
University of Minnesota
Northern Michigan University
Creighton University
Butler University
University of Montana
University of South Dakota
West Virginia University
Careers
Recent graduates in English include:
Director of marketing and communications, American Red Cross of Greater Chicago, Chicago
Art gallery owner, Arnould Gallery, Marblehead, MA
Assistant professor of English with an emphasis on digital literacy, Indiana University-Purdue University Indianapolis
High school teacher at East Aurora High School
Administrator for The Center for Cultural Exchange
Lawyer at Raymond G. Wigell, Ltd.

Senior Associate Defense Attorney

Director of Development, TriCity Family Services

Associate Director of Writing Center and Lecturer, University of Kansas

Advocacy Assistant, Prairie State Legal Services

Principal, Brand Partner at Intention

Global Manager, Content and Marketing Campaigns, Videojet

Managing editor for John Wiley and Sons Publishers

Youth Librarian, Glen Ellyn Public Library

Associate Editor, Neighborhoods.com

Senior Entertainment Relations Officer, Oxfam America

International Services Coordinator, UIC
Invest in your future
Choosing the right college is a big decision. Don't make it alone. North Central's admission and financial aid team is here to help you design a financial aid solution that works best for you and your family.
Merit scholarships, grants, loans, campus employment - these are just some of the resources available to you. Over 95 percent of students and 100 percent of all eligible students receive aid. Let our team partner with you in finding the best value for your education.
Learn more about financial aid and costs for North Central College
Apply to North Central College
The first step to becoming a North Central student is reading the application instructions specific to you. Find out everything you need to know about applying by selecting the group you belong to below.